Attendance Tracker Excel Templates: Free Download & Customizable Sheets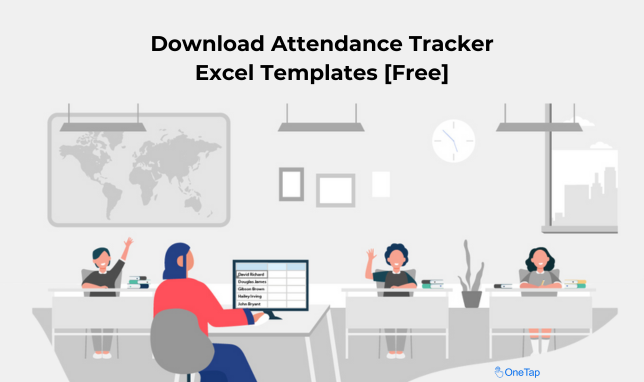 Today, attendance monitoring and recording are crucial in a fast-paced world. Whether for academic institutions, workplaces, or even special events, consistent attendance tracking offers invaluable insights into commitment, participation, and overall trends.
It helps assess the effectiveness of programs, determine improvement areas, and foster a sense of responsibility among participants.
Fortunately, you can use an attendance tracker Excel template with Google Sheets. Excel offers flexibility and ease, making it a favorite choice for many.
In this guide, you'll find a template tailored to your requirements and introduce a potentially more efficient alternative for those looking beyond Excel.
Download the Excel Attendance Tracker Template 2023
Download the Excel Attendance Tracker Template 2024
Why Use Excel for Attendance Tracking?
1. Flexibility and Customizability: Excel lets you tailor attendance sheets to fit any need, making it a versatile choice.
2. Widely Used and Accessible: It is widely used, making it easy for teams to share and access attendance data.
3. Real-Time Collaboration: With modern Excel versions, teams can edit and update attendance data simultaneously, ensuring accuracy and efficiency.
Here are the key features of our free Excel sheet templates:
Compatible with customizable lists of attendees.
Streamlined calendar for 2024.
Adaptable calendar design, allowing reuse of the Attendance Tracker template in subsequent years.
Automated calculations for each attendance type, monthly and annually.
Simplified process to input attendees and view their attendance status.
Step-by-step Guide to Using the Free Attendance Sheet Template
For an Excel Attendance Tracker to be effective, it should be user-friendly and clutter-free. With that in mind, our design is streamlined, focusing solely on what's essential, ensuring you can set it up effortlessly. Here's a quick guide to get you started with our Excel Attendance Tracker:
First, download the Excel Attendance Tracker and adjust its name to align with your organization's standards.

List your Attendee's names in the spreadsheets. You simply mark each day as it arrives.

Mark the attendance for each person in the list.

All presents, absents and percentage numbers are calculated automatically and you get the overall numbers for everyone listed on the top.

You can add as many people to the list as you want simply by copy-pasting the last columns, all the formulas update automatically, and you can continue to track the attendance all in one place.

Proceed to the January tab. For each row, assign an attendee. If the template lacks rows, add new names to the attendee column. After that, select all the cells for the last listed person and copy-paste for the new people added to the list. You can then proceed normally.

Within the 2023 Summary tab, the template auto-fills data for the initial ten team members. For additional attendees, duplicate the last row to accommodate everyone.
That's it! You're ready to manage attendance records of your students, employees, and guests.
Advantages of Using an Excel Attendance Tracker
1. User-Friendly: Excel's attendance tracker is simple to use. Enter attendance details in the columns.
2. Easy Access: You can install Excel on various devices, and it's easy to set up.
3. Budget-Friendly: A Microsoft Office 365 subscription gives you access to Excel and other apps like Word and PowerPoint. You can also use Excel's web version for free.
However, there are some disadvantages to consider:
Disadvantages of Excel Attendance Tracking
1. Missing Advanced Features: Excel can't automatically handle attendance. If you rely solely on Excel, you'll spend extra time reporting manually and won't benefit from the advanced features other tools offer.
2. Management Challenges: Manually inputting attendance data becomes tedious as your organization grows. It can lead to delays and inefficiencies, especially during peak times.
3. Potential for Errors: Since Excel relies on manual data entry, there's room for mistakes or even intentional alterations. This can compromise your records' accuracy.
4. Limited insight into productivity: Excel tracks attendance and working hours. Analyzing employee productivity in-depth requires manual effort and lacks real-time insights. More advanced tools can provide deeper analyses and faster insights.
For those looking beyond spreadsheets, consider dedicated attendance tracker software. These tools can automatically record and analyze attendance data with more precision and features.
OneTap: The Best Attendance Tracker
Imagine monitoring, analyzing, and real-time analyzing attendance data all-in-one platform automatically, without hassle. That's the efficiency OneTap brings.
Attendance tracking is changing rapidly, and your organization needs to adapt quickly. With OneTap's attendance tracking software, you can automate the attendance processes that matter most to your organization—securely, accurately, and effortlessly.
Conclusion:
Using Excel to track attendance is straightforward, but it needs to be improved compared to advanced attendance software. This is because Excel needs more productivity analytics, and managing attendance can be challenging.
Considering this, an advanced tool like OneTap is a wise choice. The Onetap Check-in App tracks attendance and provides valuable insights, such as reports, attendance history, and more.
Get started free with OneTap and give it a try for effortless attendance tracking.